Friday, April 30, 2010
4/30/2010
New1Mobile9
Even a day has not passed since the first impressions scathing Nokia N8 lighthouse, and details of any new handset to keep bending over.At this rate, Nokia may soon have no chance but to go with the official announcement, even if the actual ship date of Nokia N8 will be delayed until September.
The only thing I'm talking about now is, what appears to be an internal Nokia N8 sheet, which has somehow ended up on one of Russian sites to download file.
And it looks pretty authentic too, with the numbers of inner product, the name of a product manager (which we confirmed, actually works for Nokia) in both a technical and metadata file *. doc.
Nokia N8 Specs:
4/30/2010
New1Mobile9
Nokia busted out the specifications for a new phone this week, by releasing the details of the N8 a AMOLED touch screen with a massive 12-megapixel camera.
This time we decided to be at the height of the top three in the list of Nokia smartphones. The N8, N900 and the X6 go head to head and sparks fly here. Well tab fly.But which phone wins?
HARDWARE:
The N900 is a touchscreen slider, the others are all both touchscreen – the X6 and N8 use capacitive technology to register touch making them tap rather than click-the-button-behind-the-screen experiences. The N900 uses a slower resistive technology for the screen.
The
screen
on the N900 and the N8 is 3.5 inches across with the new N8 boasting an Amoled screen, known for brighter and clearer display and gem-like colours. The X6 is a more compact 3.2″.
As for
chips and processors
: it's a little complex. The N900 boasts 3 chips working three different fuctions which allows for power when you need it but doesn't run down the battery when you don't. As an efficient work phone, it's the most powerful of the three.
Storage
is pretty good on all phones with the N900 coming top: there's 32gb on the X6 to hold all that music, 16gb expandable up to 32gb with a micro-SD card on the N8 and a hefty 32gb expandable up to 48gb on the N900.
Cameras
are decent on all three phones, but the N8's is a stand-out with 12 megapixels, a high-quality flash and the abillity to shoot High Definition videos. All have standard 3.5mm headphone jacks.
I'll give a shout-out to the hardcore N900 fanboys who commented on my earlier article comparing the N900 to the iPhone and the Nexus and let Serhiy say what he thinks wins out about the hardware on the N900:
"Things like N900's 2 CPU architecture, power for when you need it, battery savings for when you don't… a keyboard, A/V out, 30 gigs of space, FM transmitter, FM radio, and a pair of good ear buds".
4/30/2010
New1Mobile9
Nokia has just released a firmware update for the Nokia E75 to version V210.12.15.
Last year in December, Nokia E75 received a major upgrade to version v201.12.51 that brought a huge change of registration.
Saturday, April 17, 2010
4/17/2010
New1Mobile9
Arguably the last firmware date for the Nokia N86 8MP, but extremely welcome anyway, version 30.009 firmware is now available via Nokia Software Update (142MB) and soon Over The Air as well in most regions. The usual caveats about network-branded phones getting this at a later date apply, as do taking precautions by backing up first – just in case. More details and screens below.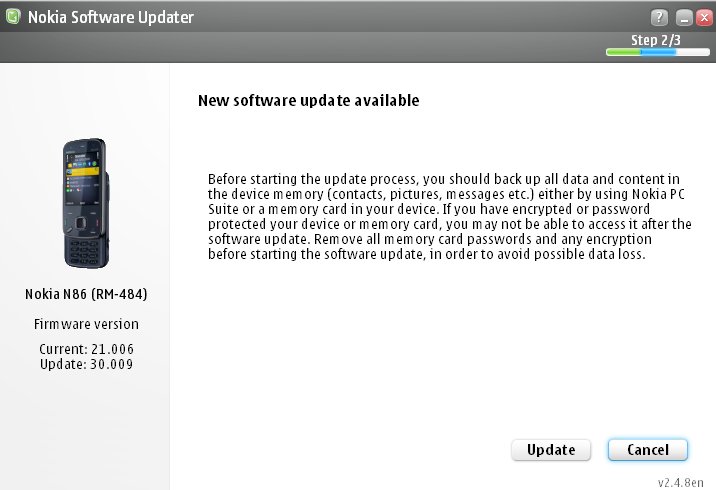 Version 30.009 is described by Nokia as a 'Maintenance' update:
includes the latest Ovi Maps 3.3 (with free navigation)
includes the sharing of location via Facebook
Nokia Messaging improvements (version 2.1.0 in the ROM now)
4/17/2010
New1Mobile9
HTC finally made HTC Droid Incredible official by launching it at the 99% Conference in New York yesterday.
Previously know as HTC Incredible, This device runs on Android 2.1 along with the newest version of the HTC Sense UI powered by 1GHz Qualcomm Snapdragon Processor.
Tuesday, April 13, 2010
4/13/2010
New1Mobile9
At the Everyone Connect virtual event, Nokia has just announced three new devices, the a new Eseries in the form of E5, and two Cseries devices, the C3 and C6.
Espoo, Finland – Nokia has announced three new handsets – the Nokia C3, Nokia C6 and Nokia E5 – designed to put better messaging and social networking tools in the hands of more people around the world, at affordable prices. These new handsets feature full QWERTY keyboards, and enable access to a range of different email accounts, IM communities and social networks.
"Our messaging device range is very successful," said Anssi Vanjoki, Nokia's Head of Markets. "Services that provide easy access to the world's consumer and corporate email and instant messaging are really popular on our QWERTY smartphones such as the Nokia E71 and Nokia E63. People want the best messaging and social networking experience on an affordable device, whether it's sending a simple text or instant message, an email, or a direct message from their Twitter account. The Nokia C3, Nokia C6 and Nokia E5 are made for just that."
Thursday, April 1, 2010
4/01/2010
New1Mobile9
Last year I bemoaned the state of social networking on mobile devices, and suggested that smartphone software should focus more on intelligently offering up contextually-appropriate information than merely replicating the desktop experience. At the time, I pointed to some ongoing research at Nokia Research called the Linked Internet UI Concept, which promised to learn from your use and attention and thus better serve up news on your friends and colleagues. We're yet to see any public release of that concept, but Nokia Research have pushed out what could be the first step toward it:
Nokia Bots
.
Nokia Bots – which is initially available only for the Nokia N97 and N97 mini – consist of four intelligent background apps that track your habits and adjust various elements of the smartphone experience accordingly:
4/01/2010
New1Mobile9
Hurry up and wait. That's what many on the Verizon Wireless network have been forced to do, ever since the Nexus One was announced back in January. Despite the fact the phone has been listed as "Spring 2010″ since day one, that hasn't stopped people from impatiently waiting the handset's launch. It looks like Google is sticking to their guns, though, because there hasn't been much in the form of release date information other than that "Spring 2010″ staring at you.
If rumors are to be believed, it looks like Google is aiming to bring the Nexus One to Verizon with a few surprises in store for future customers. What surprises? We have no idea. According to JKOntheRun, the version for Verizon Wireless will be seeing some extra features that the other versions (which we imagine includes the Sprint model as well, but there might be some reason to speculate on that) don't have. Hardware wise, that could mean better screens. Or maybe it could lose the trackball, and trade in for that optical trackpad. But, while it's perfectly possible for that to happen, we're thinking that it may be more software related.
The reason the Sprint model comes into question, is because that it looks like that model will come out after the Verizon Wireless handset. So, if it is hardware related, that would mean the Sprint model will come out after the updated model for Verizon, and we imagine that would upset quite a few people. Especially if the changes are perceived as being "better" than the current (or future) model(s).
As for the release date of the Nexus One on the Big Red network, rumors have it "any day now." Considering April is any day now, that would fit nicely with the Spring release. We've got reason to believe that it's definitely coming soon, as we've heard the same rumors, and we've even seen the phone appear on Google's Phone Store for the briefest of moments. We've included a blurry video of the said evidence, and if you pay attention, you can see that the device is listed as $199.99 — $20 more than what T-Mobile has the device listed as. What do you think these surprises could be? Software or hardware?