Tuesday, March 2, 2010
3/02/2010
New1Mobile9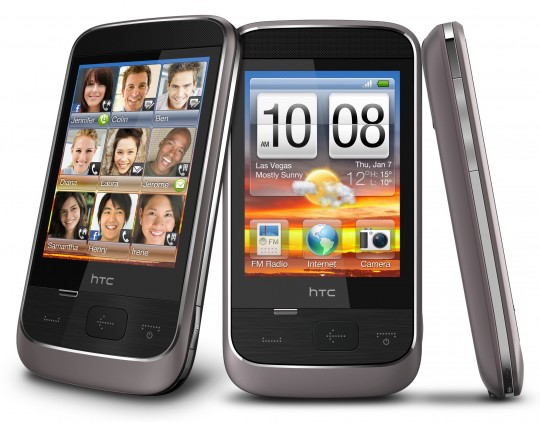 HTC say their new, Qualcomm BREW-based HTC Smart offers a new, smartphone experience to the masses, and while we reckon the masses are doing a pretty decent job on their own ä press release is still pretty light on specifications – we're waiting to hear back from HTC for full details – but since it looks to be the same device as we knew as the Touch.B we're guessing it'll have the same specifications.
Update: HTC have come through with specs for the Smart; full details after the cut.
That means 3G and Bluetooth, though no WiFi, together with a 2-megapixel camera that shoots stills but not video. There's also – joy! – a dedicated camera shortcut on the side. Other hardware controls are minimal, with a volume rocker on the left-hand side and then end, back and call/power keys up front. There's also what looks like a small, silver button just below the screen; that could be an aesthetic detail or it might be a home key.
HTC say the Smart will be available this coming Spring, across Europe and Asia, though while they tell us the handset will be competitively priced they don't actually reveal what that price might be. Any of the specs could have changed since we saw the leaked prototypes, too, so we'll update as soon as we know more.
Update: The HTC Smart has a 300MHz processor with 256MB each of RAM and ROM, a 2.8-inch QVGA touchscreen, 2100MHz HSDPA/WCDMA and quadband GSM/EDGE. There's also a 3-megapixel fixed-focus camera with LED flashlight, Bluetooth 2.0, 3.5mm headphone jack, microSD card slot and a 1,000 mAh battery good for up to 450 minutes GSM talktime or 450hrs GSM standby. SIze is a compact 104 x 55 x 12.8 mm while weight is 108g. Full spec sheet is in the gallery below.
Press Release:
HTC SMART DEFINES A NEW CATEGORY OF SMARTPHONES FOR THE MASSES
HTC Smart's friendly compact design and integration of HTC Sense will
appeal to a broad range of people all over the world
LAS VEGAS, Consumer Electronics Show (CES), – Jan. 7, 2010 – HTC Corporation, a global smartphone designer, today unveiled HTC Smart, a new type of smartphone that creates a new category of easy-to-use, connected smartphones that are accessible by people all over the world. The HTC Smart will be available this spring across Europe and Asia.
"HTC has always focused on listening to customers and setting the stage for new mobile categories and HTC Smart is the response to customer demand around the world for an easier-to-use, affordable smartphone," said Peter Chou, chief executive officer, HTC Corporation. "Just adding a touch interface doesn't mean a phone is a smartphone; The integration of HTC Sense brings an unparalleled smartphone experience for people looking to do more on their phone."
Bringing HTC Sense To The Masses
HTC Smart begins with a friendly compact touch design and integrates an intuitive user experience that is centered around HTC Senseä, an HTC design philosophy that puts people at the center by focusing on three core areas: Make It Mine, Stay Close and Discover the Unexpected. HTC Smart enables personal customization of each person's own phone experience. It also provides a quick and easy way to see what friends are up to via various social networks as well as quickly communicating over the phone, through text messaging or email.
"HTC Smart breaks new ground in delivering the powerful, in-demand smartphone features that consumers want on a more accessible device for global markets," said Paul Jacobs, chief executive officer, Qualcomm Incorporated. "We are pleased to be supporting HTC as they utilize the capabilities of Qualcomm's Brew Mobile Platform open operating system to offer high-end capabilities and a compelling mobile user experience at mass-market price points."
Qualcomm Brew Mobile Platform (Brew MP)
HTC Smart utilizes Qualcomm's Brew MP, a popular mobile operating system that enables smartphone devices to be offered at more aggressive price points, providing HTC with the flexibility to deliver smartphone features on devices across multiple tiers.
About HTC
HTC Corporation (HTC) is one of the fastest growing companies in the mobile phone industry and continues to pioneer industry-leading mobile experiences through design, usability and innovation that are sparked by how the mobile phone can improve how people live and communicate. The company is listed on the Taiwan Stock Exchange under ticker 2498. For more information about HTC, please visit www.htc.com.