Tuesday, March 2, 2010
3/02/2010
New1Mobile9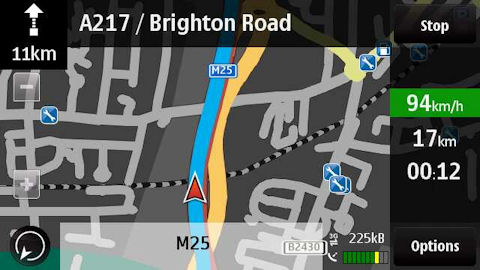 With the
Ovi MapsBeta
(v3.04) exploring new places and getting to your destination is easier and faster than ever. This new Beta release is all about
performance improvement
.
Get easily to destinations with
Drive & Walk
, FREE voice guided car and pedestrian navigation for over 70 countries. Preload maps for entire countries on your Nokia GPS phone with
Map Loader
and enjoy using all these features and services also offline.
Online you can check Weather forecasts & Events around your location or any other in the world. Find thousands of listings for sights, restaurants, hotels, shops, nightlife and more with free travel content by Lonely Planet and Michelin, available for over 1000 destinations. You can even book a hotel room via HRS Hotels, currently available in Germany and Finland, coming to more countries soon.
Share your location
with friends on Facebook and let them know what you are up to, right from Ovi Maps. Your status update, photo and location appear on your Facebook page. Your location can be viewed on the map within the Ovi Maps Facebook Application.
Roadtrip? Roadtrip!
Watch the video from Jan 21
st
introducing FREE Drive & Walk navigation in over 70 countries, featuring our Product Managers, Richa and Justus
What's different from the previous release (v3.03)?
We have made a few tweaks to improve the performance of Ovi Maps:
Improved positioning speed and accuracy
Map zooming with faster speed
Improved search for cities with zoom out to city level
To get the latest map data, we recommend you to use
Map Loader
. It will detect which version of maps you have and update accordingly. Just follow the on-screen instructions.
Compatibility hasn't been widened (yet), it still only works with the same dozen or so S60 3rd Edition FP2 and 5th Edition phones originally quoted, i.e. E52, E55, E72, 6710 Navigator, 6730 Classic and X6, N97 Mini, N97 (v2.xxx onwards
*
), 5230, 5800 XM (v3.1xxx onwards
*
)
It's a whopping 9MB download, mind you, and you can't "Delete" the previous Maps 3.3, so I'm trying the installation 'on top' by copying the SIS file to my N97's mass memory, installing from there and then seeing how much extra precious C: space has been lost. It also takes an age to install, hence this blog-like running commentary – there's plenty of downtime!
OK, even starting with 18MB free space on disk C:, the installation of Maps 3.4 failed with 'Disk full, insufficient memory'. You have been warned. I'm now going to delve into the cache and temp folders to clear space and try again. Can't help muttering though. Maybe I should switch back to the N97 mini, which at least has extra capacity on disk C:
we can download sis file from
here